When it comes to selecting the best deck materials for your project you have several options. The two most common deck materials are composite and wood. When choosing materials for a wood deck, you have cedarwood or pressure-treated lumber decking. While traditional wood decks are classic, attractive and a durable choice of materials, composite decking has become a strong contender over the years for those looking for a lower maintenance option.
Maintenance Free Decking
One of the things our clients like most about composite decking is that it's virtually maintenance free. Composite materials are moisture, rot, warping, and pest resistant. And, unlike traditional wood decks, compositive decks don't require painting or staining which means you get to spend more time enjoying your deck in the summer. A broom and a hose are all you need to keep your composite deck looking great!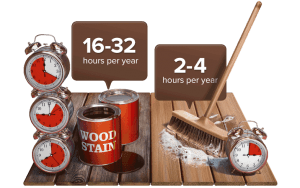 When it comes to maintenance free decking there are two options, composite, where the core is made of high-quality recycled plastics and wood fibre wrapped in a PVC skin or, solid PVC decking. Solid PVC decking is more expensive than regular composite but, it's backed by longer warranties. When choosing the best materials for your composite deck knowing the difference between your two options can help you make a decision that is best for you.
Choose Products Backed by Research and Experience
There's a massive variety of composite decking available. The selection can be overwhelming. Unfortunately, there are some inferior composite decking products on the market. They're often mass-produced in countries like China by companies that do not have research and proper development behind them. You might feel attracted to the idea of a more affordable composite deck but remember, those products will not last and don't have warranty support. In a few years, you could be very dissatisfied with your deck.
We only work with high quality composite decking products that are manufactured in North America. The manufacturers we work with have decades of research and manufacturing experience. The products are also backed by good warranties. Investing in quality products will ensure your deck gives you peace of mind for many years to come. A worthwhile investment.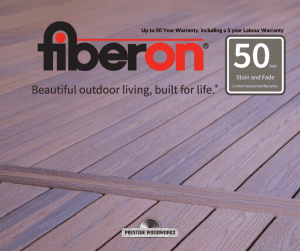 Proper Installation is Key
Professional deck builders bring product knowledge and installation experience. A professional deck contractor will install your deck more efficiently and be more equipped to deal with any issues that might arise during the build. We use industry-leading best practices for all of our deck installations. Extra care and attention are applied to every job we do, regardless of the size of the project or any constraints. For a beautiful composite deck that will last, trust the installation to the pros.
Edmonton Deck Builders 
We take great pride in designing and building quality decks for homes in Edmonton. Our careful eye for detail and dedication to customer satisfaction will make you glad you chose us. We also offer custom built pergolas, gazebos, fences, and more. Whatever help you need; we're ready and waiting! 
Contact us today for your no-obligation estimate.