3 Tips on Selecting the Best Contractor for Your New Deck
With so many under and unqualified contractors competing alongside seasoned professionals, it's more important than ever to be careful when choosing a carpentry contractor to build your new deck?
1. When Selecting the Best Contractor, Start with the Basics
Any trustworthy contractor will have all the required insurance and licenses in order. General liability insurance and WCB are two key areas to check. Also, confirm City licensing is in order. It's also always a good idea to ask for and check references. A reputable contractor will be able to provide several references. Consider when the work was done. It's advisable to have a mix of old and new clients so you can gauge the quality of work overtime.
2. Digging Deeper
Provided the contractor you're interviewing has passed the above basic tests, it's time to dig a little deeper. Are they qualified? Are they experts in their field? Do you like the look of their past projects? What're their business practices and their overall knowledge of the product and scope of work you're considering hiring them for?
It's always good to look for industry affiliations such as an established relationship with a known decking manufacturer. This helps to ensure they're up to date on the newest products and installation techniques.
Quality is always top of mind for Prestige Woodworks who have established relationships with local suppliers and manufacturers. To ensure your investment is a solid one, only work with companies that adhere to industry best practices in establishing a set of standards.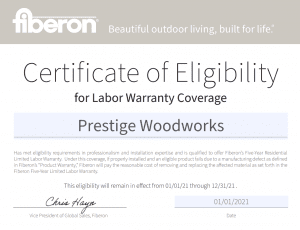 3. Relationship Based Contracting
We can not stress this one enough. We believe relationships are one of the most important factors in deciding which contractor to select. A contractor who takes the time to get to know you and build a relationship with you is a contractor who will be successful in implementing your vision. At Prestige Woodworks we call this 'Relationship Based Contracting'.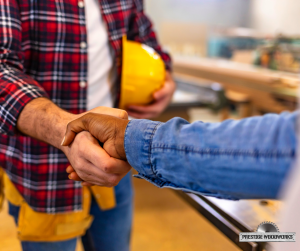 At times, you'll need to work closely with your contractor so, it's important you get along and that you can communicate concisely and effectively with them. Look for a contractor who has integrity and strong communication skills. Trusting someone to work on your home is huge, so ensure you hire someone who takes the time to show you that they genuinely care about you and your job.
Follow these guidelines when selecting your next carpentry to fit the perfect fit for a successful project. Learn more about us and our approach.
Contact us today for your no-obligation estimate.