Not sure what to do with your outdoor space? You're not alone! It can be hard to imagine what's truly possible. We enjoy working with clients who don't know what they want. It's one of the reasons we employ a relationship-based approach to our business. Getting to know you and your vision for your space is key to the design and build of your perfect outdoor space. There are many factors to consider when designing your deck including location, size, usage, style preference and budget. Allowing a professional deck builder to assess your project will help ensure you get the best value for the investment in your property.
Getting to Know You
This may seem obvious, however, in our experience, it's often overlooked. Getting to know you allows us to establish a sound relationship and understand your needs and wants better which helps us avoid issues. Without this, you might receive estimates that completely miss the mark, or be left dealing with contractors who misunderstand your dream. This is why we place such high importance on getting to know you. We take the time to understand every aspect of your project from who uses the space, what you want to use it for, when you want to use it and how you want the space to feel. We can usually get a good feel for what you're looking for after a 5-10 minute conversation.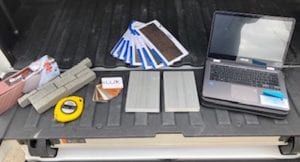 Your Local Regulations
This may seem like another obvious step but you'd be surprised how many contractors fail to understand local development and building codes. It's our job as professionals to educate you about what is and is not permitted. Taking this a step further, we believe any professional should always handle drawings and permit filing on your behalf. Understanding easements from buildings and property lines, the types of structures that are permitted and the maximum permitted sizes are just a few things to consider when planning your project. Common areas of misunderstanding often include privacy screens, roof coverings and elevations.
Design Your Dream Outdoor Space
How you intend to use your space and the amount of space play a huge role in planning and design a new deck. Often with smaller yards becoming the norm, clients worry they don't have enough space to build a beautiful space. This couldn't be further from the truth. We love the challenge of building decks and other outdoor features in small yards. Thoughtful design and planning go a long way to ensure your outdoor space is functional and beautiful. It's important to consider things such as the size of the furniture you plan to use, your cooking appliances and how many people you envision using the space. The use of screens and different types of railings can help provide the required privacy and safety barriers for different spaces, without closing the space which can make it feel claustrophobic.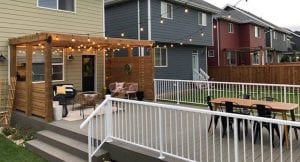 Set Achievable Goals for Your Outdoor Space
Everyone has different goals for their outdoor spaces and deck build projects. We're big advocates of
Fiberon
composite and PVC decking which is becoming more cost-effective and is often a smart direction when you consider the uncertainty of lumber prices. To set achievable goals you need to determine the future usage of your outdoor spaces. We help you set your deck build goals by having an honest conversation about what you want to achieve with the investment in your home. We work with you to advise you as to which products offer the best quality and overall value so you can the best return on your investment.
Make Your Outdoor Space Dreams a Reality
Whoever you decide to work with to design, plan and build your outdoor space, we hope that you now have a stronger understanding of what goes into deck building projects. Any reputable professional with a strong understanding of their trade and respect for their clients should take care and attention to understand all aspects of your project. If you do decide to work with us, we know you will be very happy with both our processes and your results.
Are you ready to make your dreams for your outdoor space or new deck a reality? Contact us today for your no-obligation estimate.