From the ground up, deck design is both an art and a science. It's not just about what looks good or what costs the least. Successful decks are built on a solid foundation, and each part of the deck needs to be designed to ensure that your home and property are protected from the elements, now and for years to come. If you're in the process of finding a deck contractor, chances are you have a lot of questions. What kind of materials will be best to use on my new deck? How do I know if my deck is rotting? How much can I afford to spend? Some questions, however, get asked more often than others — and one such question that often gets asked is, "Can I reuse my old deck framing?" Many factors come into play as to why the frame may look in better condition than it really is. There are a couple key things to look for when inspecting a deck and framing. There's no point installing
a modern composite decking
product with a 25-year warranty
over a frame that's past its prime.
Check for Decay
Inspect the ledger board, support posts, and joists beneath your deck. Look for small holes or holes surrounded by sawdust or wood dust, and for loose or protruding nails and screws. In addition, look at areas of your deck that are frequently exposed to water, are consistently damp, or are in regular contact with fasteners. If you can easily penetrate the wood or if the wood is soft and spongy, then you might have some form of wood decay. If anything as begun to rot or decay, it's time to replace.
Test the Stability
Does the deck feel soft in any areas or are there any split boards? Does it feel solid when you walk on it? If there is deck movement where there shouldn't be that is a classic sign of rotten boards, joists, or footings. It needs to be repaired or replaced.
Importance of Railings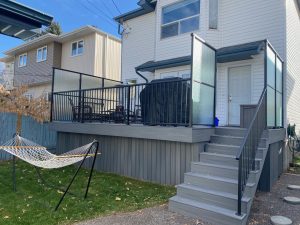 There are many options for a stylish deck railing. Choices such as cabling, glass, and aluminum have a great impact on the appearance of the deck. It's also important that railings and posts look and feel secure and are built to code.
When it is time to replace your deck, we recommend that you start fresh.
Not only does this give you peace of mind that the framing is safe, but it ensures that your project is built and installed correctly. Trying to save an old deck's framework would increase labor costs, as it takes more time to remove old decking and railing to avoid damaging any of the framing and to square up the old deck again and fix any damaged areas. It may seem like a large investment however, in our experience, replacing the framing of the deck now will save a lot of money and headaches down the road. We are in business to build you a quality deck and educate our clients wherever we can.
Contact us today
for your no-obligation estimate.