Decks undeniably add value, quality of life, and overall appeal to any home. But before you splurge and build a deck, it's important to think about the build and design. A well-planned space customized to your lifestyle and environment will be much more appealing and valuable than one that is a cookie-cutter design.
Prestige Woodworks is a professional carpentry company specializing in transforming your outdoor space into a beautiful oasis. We share some important tips when it comes to building and designing a new composite deck.
Top-quality materials
The materials you choose make up the foundation and quality of your deck both now and years down the road. Some materials take more maintenance than others or need regular staining to keep them in top shape. With composite decks, you don't have to worry about maintenance or unexpected repairs. Composite decking is resistant to warping, splintering, or fading, so year after year, it'll always look brand new. You can also choose between a range of colours and styles, so it will complement your home's exterior design. Professional installation will ensure a safe and quality installation and the benefits of warranties to protect your new deck.
Plan the right size
When planning for the size of your deck, there are few elements to consider. First, there's the space of your yard to factor in. Do you want the deck to be the main feature, or do you want to keep some landscaping elements? Do you want a long deck or a wide one, and how will you reach the yard from it? If you are designing a multi-level deck or a circle or square design, make sure there's room to walk around the deck. It shouldn't be awkward or crowded to have multiple people on the deck at one time. With that in mind, then also the factor of any deck furniture or equipment like barbeques. Carefully planning early on will avoid an overcluttered or hard-to-navigate deck design.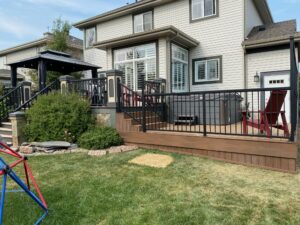 Think about railings
Any raised deck will have railings installed for safety and security, so start thinking about the design ahead of time. Do you want a purely aesthetic railing design that complements your home's colours? Or, do you want a unique, stylish look like one made of glass or matching wood? What about that privacy element? Do you want railings that are spaced apart or close together and tall to create some privacy for your deck? If you have small children using the deck, it may be better to plan for tall, narrow railings regardless to keep your kids safe. Prestige Woodworks can help you decide on railings, and ensure they're built according to building code.
Are you ready to make your dreams for your outdoor space or new deck a reality? Contact us today for your no-obligation estimate.